Hydro Excavation
Hydro excavation is a safe way for construction professionals to dig out rock and soil to expose, identify, and maintain underground utilities such as water pipes and telephone lines. Traditionally, excavators have used high power mining trucks to remove soil and rock. Although effective, this method can be dangerous, as utilities are unidentifiable until the excavation is in process.
Hydro excavation uses high pressure water that originates from a water tank on the hydro excavation truck. The high pressure water loosens the ground soil and rock. As the soil gets broken down, an industrial strength vacuum sucks up the particulate rock and soil into a debris holding tank, contained on the hydro excavation truck. This excavation method provides safe and precise digging without the risk of interrupting or damaging underground utilities such as  fiber optic cables or water pipes.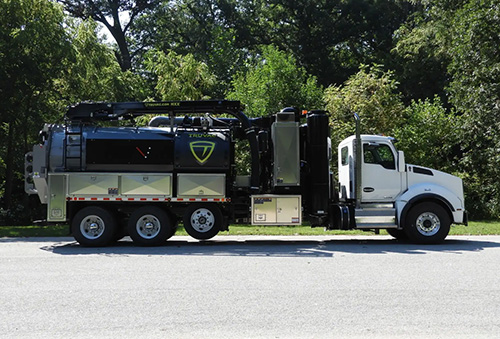 The following industry sectors are best served by Hydro Excavation:
Pipeline Companies
Oil and Gas Companies
Telecommunication Companies
Refineries/Plants
Municipalities
Federal & State Agencies
Utility Owners Engineering Firms
Construction Firms
Subsurface Utility Engineering
Environmental Firms
Vessel/Barge Operations
Drilling Rigs/Platforms
---
Hydro Excavation Demonstration
---
Hydro Excavation Applications
Trenching
Trenching is used to locate existing underground utilities. This hydro excavation process uses high pressure water and vacuuming to create a narrow excavation below the surface of the ground in order to explore what is beneath the surface safely and efficiently. Trenching through hydro excavation eliminates cumbersome mechanical labor that comes with traditional excavation, is a much safer process, and is cost effective.
Day Lighting
Day lighting exposes underground utilities, giving construction workers the access they need to to perform maintenance and replacement. Day lighting is a hydro excavation process where high pressure water is applied to rock and soil around subsurface utilities. High pressure water striking utilities during hydro excavation does not cause damage unlike the potential hazards that come with traditional backhoe or mechanical shovel methods.
Potholing
Potholing is utilized when extensive repair is required around piping and similar underground utilities. It is used to explore the depths, dimensions, and type of underground utility. Potholing is a hydro excavation process that eliminates the need for heavy machinery and is very cost effective compared to traditional excavation processes.
---

Hydro Excavation Safety
Vortex Restoration makes safety a priority during all hydro excavation projects for the following reasons:
Our Team: When valued employees are safe and prepared, they are able to perform at optimal levels.
Highest Quality: Providing the best service and quality for clients with the desire to exceed expectations.
Peace of Mind: All parties involved should feel confident and at ease during every hydro excavation project.
Vortex Restoration Safety Measures
Vortex Restoration employees our own Health Safety and Environmental Director (HSE)
Vortex Restoration has Transportation Worker Identification Credentials (TWIC)
All Operation Qualification (OQ) clearances are adhered to
Regular Employee Drug Testing
Regular Job Safety Analysis (JSA) Procedures